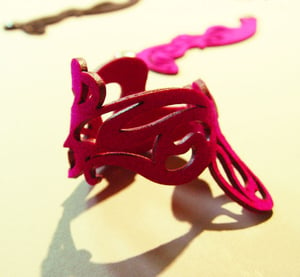 $

35.00
Art Nouveau was my first fine art love; the graphic quality, the swirling shapes which all compliment one another & the goddess like women being held by nature remind me of my dreams.
This cuff bracelet is a companion piece for the Asymmetrical Shadow Necklace. -Although it looks great with the symmetrical Shadow Necklace also!
Comes in 12 different colors.
Shadow bracelets are sized:
Xtra Small 6.75", Small 7.5" and Medium 8.5"
To size measure the diameter of your wrist and add half an inch (.5")
Please be sure and specify which you'd like.